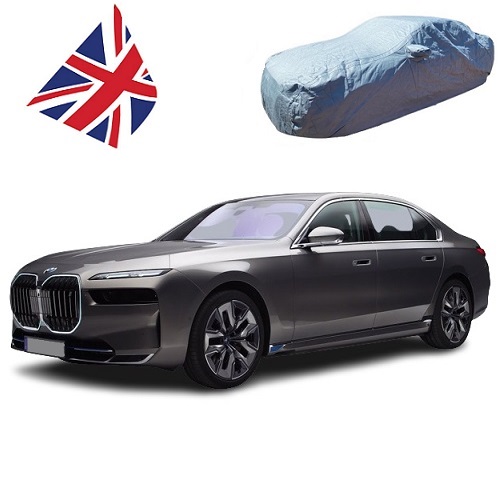 BMW I7 car cover custom tailor made to fit all G70 fully electric EV saloon models 2022 onwards. We have the largest range of BMW Indoor, Outdoor and Stretch car covers available in the UK. From here you can buy car covers that are an exact fit. We offer Indoor fitted covers right up to 100% waterproof and breathable covers for outdoor use. All covers come in their own handy zipped storage bag and are complete with under body securing straps where required. When you have decided on the cover you need, simply change the drop down boxes above to the correct type of car cover for your BMW i7.
A quick reminder on the specs and what you need to know about our BMW car covers.
Sahara Indoor Car Cover
Dry indoor storage cover for Garage use.
Fully breathable fabric allowing damp and moisture to escape safely

Double stitched on all seams for strength and long life.

Non scratch inside to protect your paintwork

Made from Black man made non woven fabric

Elasticated front and rear sections for a snug fit

100% UV resistant to prevent paint fade

Complete with its own high quality zipped bag for storage

Stitched in front label for ease of fitment

1 year warranty
Voyager Lightweight Car Cover
Lightweight indoor and outdoor car cover
Indoor and outdoor single layer Silver Grey silky fabric

Water resistant Shower Proof car cover

Non scratch inside to protect your paintwork

Detachable under body securing straps with soft silicone fastener covers

Elasticated front and rear sections for a snug fit

Side panel eyelets fitted for use with optional locking kit

Stitched in front label for ease of fitment

Complete with its own high quality zipped bag for storage

Stitched in front label for ease of fitment

1 year warranty
Stormforce All Weather Car Cover
The All Weather car cover
All weather 4 layer 100% Waterproof and Breathable Car Cover

The 4 layers are bonded together to give a strong outer shell

Finished in a mid grey outer colour

Non scratch inside to protect your paintwork

Double stitched on all seams for strength and long life.

Detachable under body securing straps with soft silicone fastener covers

Elasticated front and rear sections for a snug fit

Side panel eyelets fitted for use with optional locking kit

Complete with its own high quality zipped bag for storage

Stitched in front label for ease of fitment

2 year warranty
Auto-Stretch Indoor 4 Way Stretch Car Cover
The Fully stretch indoor car cover
Indoor 2nd skin breathable Polyester and Lycra mix car cover

Stunning Black sheer finish

Non scratch inside to protect your paintwork

Amazing 4 way stretch fabric

Elasticated around the bottom for a snug fit

Complete with its own high quality zipped bag for storage

Stitched in front label for ease of fitment

Washable and comes with full care/washing instructions

1 year warranty
Optional Car Cover Locking Kit For Use With Outdoor Covers
The Best way to secure your outdoor cover from theft
Plastic coated heavy duty steel cable

Supplied with a good quality padlock and 2 keys

Threads through the eyelets in the bottom of our outdoor covers

Visual and practical Anti Theft device to keep your car cover safe

Comes with fitting instructions
If you would like any further information or want to speak to a real person then drop us a call or send us an email via the contact us page. Customer satisfaction is guaranteed with our company